My 7-Year Struggle with the Japanese Language

Yo! I'm Niko. I'm a freelance Japanese-to-English translator and the founder of NihongoShark.com.


If you heard my Japanese only a few years ago, however, you'd be pretty surprised to hear that.


Truth is, I couldn't speak a word of Japanese until my early twenties.


Even then, things didn't go so smoothly. I've probably wasted more money on trying to learn Japanese than 99.9% of the world's population. From the moment I started studying Japanese in 2008, I was fascinated by the language. But my teachers didn't seem to help, the books I bought didn't seem to help, the online courses I spent hundreds of dollars on didn't seem to help--and I was totally lost.


I was actually studying, too. Studying obsessively. I used to put post-it notes with Japanese all over my house. I tried journaling in Japanese. I tried writing the same kanji 8,000 times in order to memorize it. I read every book on learning Japanese that I came across, wasting a lot of money in doing so. I tried to watch anime. I tried to read manga. I tried to play Japanese video games. I took classes. I studied flashcards. I really put my heart and soul into learning this language... and in the end it was a disaster.


I spent years studying Japanese, and I got almost no results.


So, in 2010 I quit studying completely. I gave up on trying to learn this langauge that was so fascinating to me. It just seemed that I wasn't making any progress at all. I was discouraged, bitter, and confused about the whole experience, and I felt like a failure.


I figured that I just wasn't really cut out for learning languages, after all.

A year later, by a random turn of events, I volunteered for a few months in Peru, at an after-school program for disadvantaged children. Here's a pic taken there of me and my unseemly, early-twenties facial hair: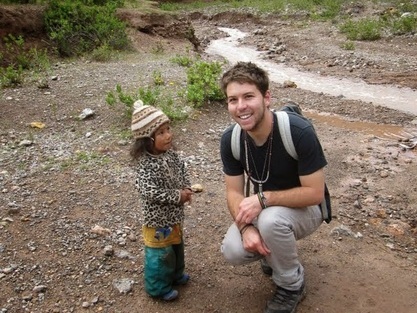 In the few months before going to Peru, I studied Spanish, trying to avoid my previous study mistakes with Japanese.


When I did that, something very unexpected happened: I picked up Spanish really fast.


I started to think that maybe I was onto something, to think that maybe I had tapped into an effective language study method. So I went back to Japanese, this time with an entirely new study approach. With a new study system...